If you ask the average kid (or even nutritionist!) which foods are high in Vitamin A, they are more than likely going to tell you carrots and other bright orange vegetables. Everyone knows that!
Except they're not high in Vitamin A…
Vitamin A comes from eggs, whole dairy products, fish liver oils, and beef, calf, and chicken liver (1). Carrots and other bright orange fruits and vegetables are a good source of beta carotene, and beta carotene is NOT Vitamin A (1). Beta carotene must be converted to Vitamin A in the body. Unfortunately, research shows that this conversion process is extremely inefficient (2). Most people absorb only a tiny fraction of the beta carotene they consume, and only a fraction of that ever becomes vitamin A, even if you're stuffing your face with "pumpkin everything" this time of year.
Why care about this? Well, first of all, Vitamin A is crucial for healthy bones and calcium metabolism, vision, healthy skin, immunity, proper hormone function, making healthy babies, and carrying a healthy full-term pregnancy, so making sure you're getting enough is important.
Second of all, as a consumer, you should be annoyed. Beta carotene is included as Vitamin A on the Nutrition Facts panel of food and supplements. This is confusing for consumers. This leads people to believe one cup of carrot juice contains a whopping 700 percent of their daily intake.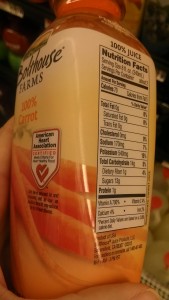 Not only is that wrong given what we know about absorption, it's wrong because those Nutrition Facts panels amounts are based on erroneous calculations that are way too high (3).
Food and supplement companies can voluntarily declare the portion of vitamin A derived from beta carotene on a label, but many do not. The FDA has proposed that the labels change to reflect the new unit of vitamin A measurement – mcg RAE (mcg's of retinol activity equivalents). That will help deal with some of the confusion, but it won't help with the next issue.
Third, it's estimated 45 percent of adults don't convert ANY beta carotene into vitamin A at all (4, 5). That's a BIG deal!
What are some signs of vitamin A deficiency? Keratosis pilaris ("chicken skin" on the backs of arms), impaired immunity (getting sick all the time), rough/dry skin, acne, and dandruff.
Bottom line? People with restrictive diets excluding certain types of food might be at risk of vitamin A insufficiency, even in developed countries. Sufficient vitamin A intake cannot be reached by consuming only beta carotene alone (6). Your best bet would be to eat foods containing BOTH beta carotene and vitamin A, and focus on practices that are known to improve beta carotene conversion, such as:
Eating beta carotene-rich foods along with some fat, such as an olive-oil based dressing on a salad, increases the amount you absorb.
Treat your gut nicely. So many of my clients suffer from food allergies, low stomach acid, or other manifestations of compromised gut health, all which can hinder absorption. Contact me for more on this.
Iron and zinc are critical in converting beta carotene to vitamin A. If you're deficient in them, your vitamin A status will probably be impaired (1).
Lightly cook your vegetables to break down fiber and improve absorption.
A special note for anyone interested in fertility and lactation: vitamin A needs go up during pregnancy and nearly DOUBLE during lactation (1), yet pregnant women or those considering becoming pregnant are often advised to avoid the intake of liver, based upon unsupported scientific findings (7).
"The American Pediatrics Association (err.) cites vitamin A as one of the most critical vitamins during pregnancy and the breastfeeding period, especially in terms of lung function and maturation. If the vitamin A supply of the mother is inadequate, her supply to the fetus will also be inadequate, as will later be her milk. These inadequacies cannot be compensated by postnatal supplementation. A clinical study in pregnant women with short birth intervals or multiple births showed that almost 1/3 of the women had plasma retinol levels below 1.4 micromol/l corresponding to a borderline deficiency." (7)
We've been somehow conditioned to believe that vitamin A supplements and/or eating liver during pregnancy is associated with birth defects. It's a myth that won't die. The World Health Organization (WHO) reviewed the research and concluded that even retinol dosage levels of 20,000 to 30,000 IU daily did not reach the level that could theoretically cause birth defects (8). The WHO recommends  that all pregnant women take vitamin A as retinol (8). They also say vitamin A may REDUCE the risk of birth defects! Oh the irony.
I always bring up liver with my fertility clients.  I estimate about 50 percent are game to try it weekly, especially if they grew up eating it. The other 50 percent recoil in horror. I'm fine with that. I don't like it either! I can't seem to acquire the taste for it no matter what I do. I sometimes buy liverwurst from U.S. Wellness Meats, but I mainly get my Vitamin A from a mix of eggs, dairy, and vegetables.
A note on supplementing: many in the nutrition and health community are wild about cod liver oil as a vitamin A supplement. It's good for the majority of people, but for those with low calcium levels, it could be detrimental. I don't recommend any supplements anymore without mineral analysis first.
http://www.lmreview.com/articles/view/common-genetic-variants-and-other-host-related-factors-greatly-increase-susceptibility-to-vitamin-a-deficiency/#fn-ref-113-3
World Health Organization Micronutrient Initiative. Safe vitamin A dosage during pregnancy and lactation. World Health Organization 1998 WHO/Nut/98.4