I took a Health Literacy class in grad school. The class taught me how to explain complex health information to people that don't have a lot of health knowledge. For example, how do you explain how to control blood sugar to someone who doesn't know the difference between carbohydrates and protein? And who doesn't know anything about the pancreas or insulin?
Health literacy is a concept that's different than medical literacy – i.e. can you read a pill bottle and take your medication properly. Health literacy requires knowledge of health topics and the understanding of the relationship between lifestyle factors, such as diet and exercise, and various health outcomes.
Until today, there hasn't really been a way to measure health literacy. But today marks the launch of the Hi.Q app, two years in the making! The app is the first comprehensive health IQ test that measures how health conscious a person is, with the goal of increasing the world's health literacy.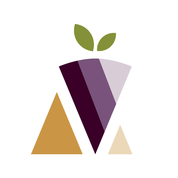 The app includes more than 10,000 questions in 300 categories. You answer questions in a timed, quiz-like format that prevents you from "googling" the answer – and that is apparently pretty addictive!
The questions were written and certified by 30+ experts from various fields of medicine, nutrition, and exercise – including me! Yup, that's right. I was asked to be an expert reviewer for this project a few months ago. It was kind of hush hush, and I didn't know many details, beyond "this is going to be big, do you want to be involved?" I'm so glad I said yes, as I think this app has the potential to inform MANY people about the basics of health and how to take care of yourself. (And can I just say how excited I am to be on a team that includes people like Kristin McGee, one of my favorite celebrity yoga instructors?!)
The questions are very different than a health assessment, like what you might take at work. Instead of "How many times do you workout?" or "How many times should you workout?", questions get at your real knowledge by asking you for answers you would only know if you were well-versed in a health subject.
For example:
"How do you get rid of saddle sores when bike riding?"
"How many cups is this (photo of rice)?"
Hi.Q users can compare their overall score and topic level scores to known experts and other members of the Hi.Q community. Users can see how their knowledge of nutrition compares to the average Walmart shopper, the average Whole Foods shopper, the average farmer's market shopper, or an organic farmer. They can also see how their Hi.Q score compares to the state or city average.
The categories of questions cover a broad range of health areas: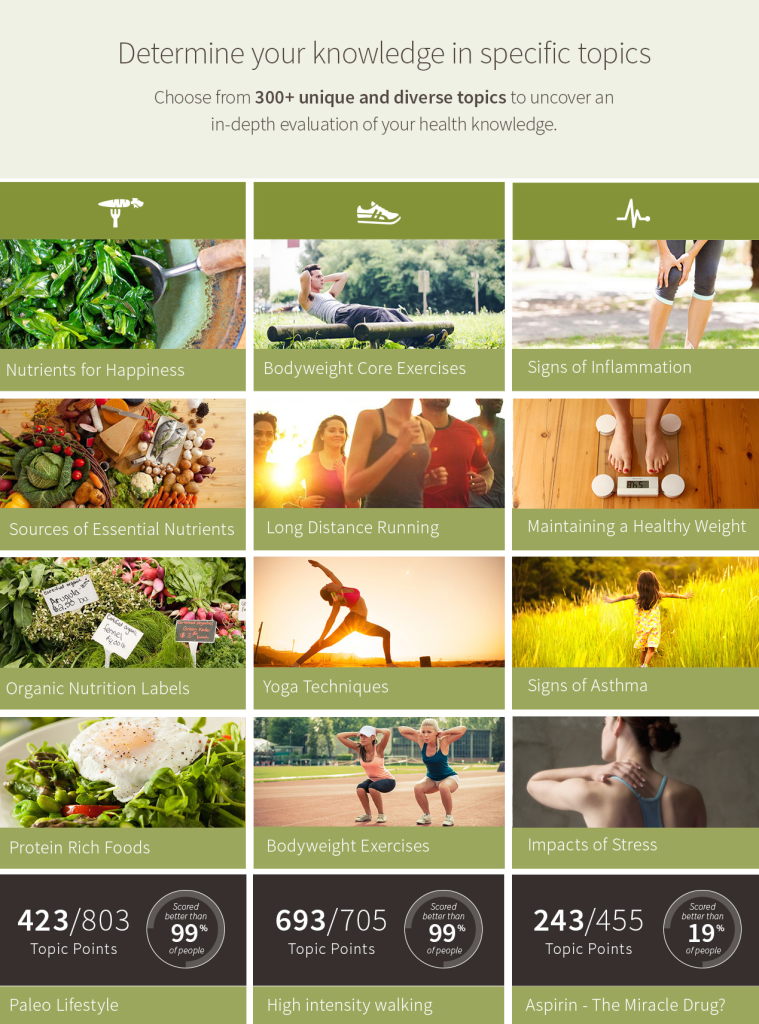 And many more. See what I mean when I say broad?!
During preliminary testing, 250,000 people used the app, and it was determined which health facts and skills are the most important to long-term health maintenance. For example, Hi.Q found that knowledge of how to eat at parties was more predictive of long-term health than how to manage stress. They used this type of information in the scoring.
In terms of the type of impact this app can potentially make, Hi.Q found that people who have high health literacy, as measured by their Hi.Q score, were 50 percent less likely to have visited the hospital in the past year, and have a lower chance of being obese than those with lower health IQ scores.
Pretty cool. I'm excited to see if this takes off.
I encourage you to test your Health IQ and try out the app. For now it's only available in the Apple store (booo for us Android users!). But it's free! Let me know what you think.
Here is some media coverage from the launch today if you're interested in learning more:
http://blogs.wsj.com/venturecapital/2014/12/15/health-literacy-startup-hi-q-emerges-from-stealth-with-funding-and-app/
http://venturebeat.com/2014/12/15/this-app-uses-clever-quizzes-to-rev-up-your-health-iq/