Take a look at the ingredient list of your favorite face cream. What do you see? Petroleum? A bunch of chemicals? Methyparaben or propylparaben (parabens)? Ick. Remember, your skin is transdermal. Anything you're putting on it is going into your body. Would you eat your face cream? I didn't think so.
Sure you can go to the health food store and purchase an expensive all-natural face cream with better ingredients. But ultimately, personal care products need some sort of preservative to stay shelf stable. Like my diet, I'm getting to the point where I want fresh, whole ingredients in my personal care products. That's why I've started making them myself!
First up? Vitamin C serum. Topically, vitamin C is a potent antioxidant that can help fade spots, exfoliate, and build collagen. But most serums are uber expensive. And from what I've read, vitamin C is unstable and prone to oxidation, so most serums are ineffective by the time you finish them.
You're going to be amazed when you hear how easy it is to use vitamin C topically on your skin.
Vitamin C powder + water. That's all.
Now, don't go buying those orange-flavored vitamin C packets. You need plain ol' L-ascorbic acid powder, found in any vitamin or health food store. I bought mine for less than $15 and it will last for quite some time.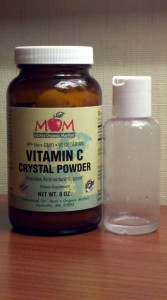 I use a 4-ounce travel-size bottle to mix. Start out weak – maybe ¼ tsp to 4 ounces of water – especially if you have sensitive skin. The powder will dissolve. Use a cotton ball to wipe over your clean face. It might tingle a bit, which means it's working! You can store it in the fridge to make it last longer (the cool toner feels extra amazing!) or just make small batches. I've worked my way up to ¼ tsp in about 2 T water.
There is so much info online about this topic, so if you want to learn more or peruse other recipes, I highly recommend googling "homemade vitamin C serum."
I'm really happy about this toner. There are no nasty side effects, perfectly safe ingredients, and it gives me a nice glow. And it's affordable! It's too early to tell if it's doing anything collagen-wise, but talk to me in a few years 🙂
Let me know if you try it and what you think!