I was so excited to see pumpkin as this month's theme for Recipe Redux. As soon as October hits, I go pumpkin crazy, creating both sweet and savory recipes that star this nutrient-packed squash. But then when I read the fine print for this month's challenge, I had a momentary panic attack: using fresh pumpkin was encouraged.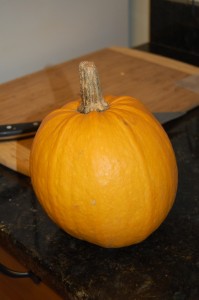 Eek! I'll admit it: I am a fraud. I shy away from most canned goods these days, but I have always gone the easy route when it comes to pumpkin. "This will be good for me," I told myself as I contemplated cutting, peeling, and baking a whole pumpkin. And possibly cutting off a finger.
I scoured the internet for recipes. I'm not shocked much these days when it comes to pumpkin recipes. My friend throws a pumpkin potluck every year and I've seen it all: enchiladas, bread, cookies, chili, curry, ravioli, pasta, and even salad. I wanted to make something with pumpkin that was both unexpected and that starred whole pieces of pumpkin, not puree. If I was going to cut up the damn thing and not use canned pumpkin, I wanted it to showcase my knife skills!
I've never even heard of kaddo bourani, but I soon as I saw the recipe, I knew it was perfect. It seems there is only one recipe for this Afghani dish floating around the internet. It's from Helmand, a famous Afghani restaurant with locations in San Francisco and Baltimore. So close! I put it on my list of restaurants to try. Yes, I have a list 🙂 It's also a recipe in need of "healthifying," which is one of the main goals of the Recipe Redux challenge.
I halved the recipe and made a few other changes.
1 sugar pumpkin
3 Tbsp coconut oil
1/2 cup sugar (original recipe called for 3 cups!)

For the yogurt sauce
1 cup plain yogurt (I used homemade – I love making yogurt!)
1 garlic clove, minced
fresh mint, minced (original recipe called for dried mint)
dash sea salt

For the meat sauce
1 Tbsp olive oil
1 large onion, diced
1 lb bison (original recipe called for ground beef)
2 garlic cloves, minced
3/4tsp ground coriander
3/4 tsp salt
3/4 tsp freshly ground pepper
1/2 tsp ground turmeric
2 Tbsp tomato paste
1 cup water
Preheat oven to 300º.
Wash off the outside of the pumpkin. Cut it in half. This was a pain in the a$$. I gave up, poked a hole in the pumpkin for the steam to escape, and then popped it in the oven for a half hour or so. Muuuuch better. I then cut it in half and scraped out the stringies and seeds. It was then easy to peel it with a paring knife and cut the halves into 3″-4″ pieces. I put them in a baking pan and drizzled them with the coconut oil and sugar.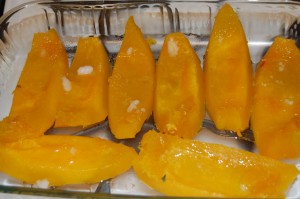 Cover the pan with aluminum foil and bake for 2 hours, or until soft and dark orange.
Meanwhile I mixed all the yogurt sauce ingredients together. Refrigerate, covered, until ready to serve.
On to the meat sauce. Brown the onions in the oil in a heavy-bottomed saucepan. Add the meat and cook over medium-high heat, stirring, until it is broken up. The bison didn't need any draining. Add the garlic and spices and cook for another 5 minutes or so. Stir in the tomato paste and the water and bring to a boil. Lower the heat and let simmer, covered, for about 15 minutes.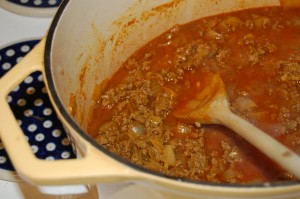 The combination of turmeric, coriander, and tomato sauce is my new favorite thing! I might even try it on pasta or rice it was so good. And did you know turmeric is one of the healthiest spices around? I always look for ways to incorporate it in my diet.
Serve the hot pumpkin, topped with the hot meat sauce and the cold yogurt sauce.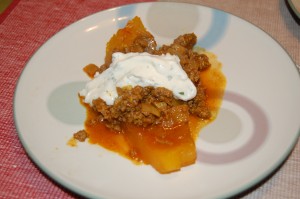 It was well worth hacking up the fresh pumpkin – pretty much the best review I could give this dish 🙂
If you're a pumpkin lover, be sure to check out all the other pumpkin recipes for this month's Recipe Redux: