You know you're a grown up when you start to like all the foods you hated as a child. Case in point: blue cheese, or any stinky cheese in general. The strong flavor and blue-green mold was a total turn off when I was a kid. I forget when my taste buds started to appreciate stinky cheese, but I now love it. I like how just a little bit adds big flavor to a dish.
Like this salad, an ode to seasonal flavors. I've been buying some fantastic apples at the farmers market – Honeycrisp, Macintosh, and Rome. I've been wanting to add them to recipes in addition to snacking on them. Fruit and blue cheese in a salad are one of my favorite combos (not Karl's…). I stuck with the apple theme and created a dressing with apple cider vinegar for this month's Recipe Redux – "Dressing for Success." And what better addition to an autumn salad dressing than maple syrup, which just screams cooler weather to me.
1/4 cup sunflower oil (or other neutral tasting oil)
2 T apple cider vinegar
2 T maple syrup
1 T Dijon mustard
pinch sea salt
several turns of the pepper grinder
The immersion blender makes homemade salad dressing a cinch (thanks for convincing me Janel!), but you could always slowly whisk the oil in or shake in a jar to emulsify. I drizzled this dressing over mixed greens, chopped apples, crumbled blue cheese, and chopped walnuts.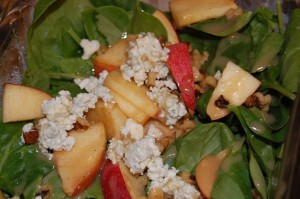 I ate big bowls of this salad for three days straight – all by myself. Sometimes Karl just has to fend for himself for dinner 🙂
Check out all the other healthy dressings and spreads from my fellow dietitians and Recipe Reduxers: