My mom made big batches of Christmas cookies every December and kept them in the freezer. I loved sneaking into the freezer for iced sugar cookies, chocolate crackles, and Magic Cookie bars growing up. I was especially fond of Magic Cookie bars. I'm not sure how these became associated with Christmas, but I've talked with other people and they ate them at Christmas time too!
You might also know them as Dream bars or 7-Layer bars. My mom's recipe was from the back of the sweetened condensed milk (SCM) can and consisted of a graham cracker crust and layers of SCM, chocolate chips, walnuts, and coconut. Simple, yet spectacular.
I don't have kids (YET!), so I've never been into making loads of Christmas cookies during the holiday season. I don't want that many sweets in the house and rolling dough by myself seems like a chore! Last year, I went to my friend's house for a marathon Christmas cookie baking session. I think we make seven types of cookies! It was a blast, but I ended up giving most of the cookies away to make room for Poppy's dog food in the freezer :p
I've had a hankering for Magic Cookie bars ever since someone recently asked me what is my favorite Christmas cookie. I had the most important ingredients on hand earlier this week: chocolate chips, walnuts, and coconut. But I didn't want to buy canned SCM. I don't eat a lot of canned food normally, but especially not during pregnancy. This isn't just me being paranoid – most experts now recommend avoiding canned food during pregnancy to reduce exposure to BPA, which may affect neural development in the womb and cause behavior problems.
Most of the recipes to make your own SCM took hours over low heat, so I was fully ready to start my project at 6pm and not actually make the cookies until after 9pm! But after some more digging, I read that if you keep stirring, you can raise the heat and drop the cooking time significantly. I made delicious SCM in 20 minutes! It was so delicious, I almost ate it all by itself.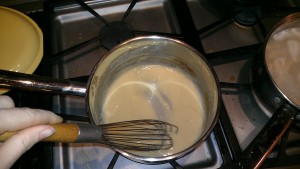 I "healthified" the crust by using rolled oats, walnuts, and extra virgin coconut oil. I nailed the crust ingredients ratio! It held together quite nicely after baking.
Sweetened Condensed Milk:
1.5 cups milk
½ cup sugar
glug vanilla
Crust:
1 cup rolled oats
½ cup walnuts
2 T virgin coconut oil
¼ tsp salt
1 T sugar
Toppings:
1 cup chocolate chips
½ cup walnuts
½ cup unsweetened coconut
Combine milk, sugar, and vanilla in a saucepan over medium heat. Whisk until thickened, about 20 minutes. While that's cooling, combine the crust ingredients in a food processor. Process on high until crumbly. Press into a 9×9 square pan or a 7×11 pan. Smear the SCM on top of the crust and sprinkle on the toppings. Bake at 350 degrees for 20 minutes.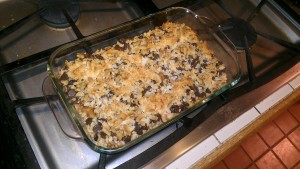 I'm reminded why I don't bake much: we finished these in just a few days! A nibble at breakfast, one with lunch, one for dessert…
What's your favorite goodie this time of year?