When I heard the theme for this month's Recipe Redux was "Frozen Desserts," I knew immediately I wanted to use my ice cream maker. But plain ol' ice cream just wouldn't do. I had to step it up a notch. The thought of ice cream pie made my mouth water – ice cream frozen in a cookie crust. And given that I had 12 mouths to feed during a family summer vacation in the Poconos, ice cream pie seemed suitable.
I started at the farmers market for inspiration. The peaches looked so pretty, juicy, and fresh, they just screamed dessert. At home, I combed through the cupboards. We have several bottles of homemade vanilla made with various liquors, and I though the peaches would taste great caramelized in vanilla rum. Regular rum and a splash of vanilla would be a perfectly fine alternative.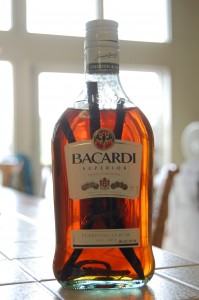 As for the crust, I wanted something sugar cookie-ey, but as I'm trying to avoid white flour these days, I needed a healthy crust option. Bingo. Comfy Belly has a cinnamon cookie recipe made with almond flour that got great reviews. I doubled it since I was using a 9×12 pan. I didn't realize until after the fact that she uses it for pie crust too, with instructions and everything! I overcooked mine trying to guesstimate the cooking time 🙁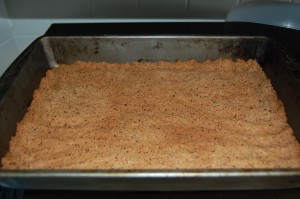 I used Eat Well with Janel's coconut ice cream as a base. It's such an easy dump-and-stir ice cream recipe! And the coconut flavor does not interfere with your add-ins. Some research suggests that plant saturated fats like coconut are healthier than animal saturated fats like those in heavy cream. But I still use light coconut milk when I make it. I find it much smoother than the full-fat cans anyways, which tend to have a layer of coconut cream that settles at the top.
I learned a huge lesson making this big ice cream pie: ice cream makers with frozen canisters can only make ONE batch in a day! I fully planned on making two batches of ice cream for 12 people. When the second batch kept spinning and spinning without solidifying, I had to come up with a plan B. I froze the second batch and stirred it often to prevent ice crystals, but still, the texture of the pie was disappointing. Use a pie plate, one recipe for cookie pie crust, and ONE batch of ice cream!
While the ice cream was in the freezer, I sauteed 8 peeled, sliced peaches in about a cup of vanilla rum and a glug of maple syrup. I wish I would have used 12 peaches for more peach flavor. If you're going to use a pie plate, try 6. I cooked everything until the rum reduced and the peaches were nice and soft. Once cooled, everything was stirred into the ice cream and spread into the crust.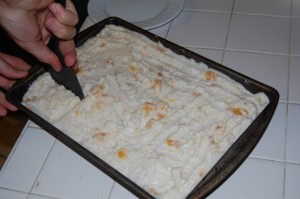 I recommend freezing ice cream pie for at least a few hours, but we couldn't wait that long! So we ate semi-soft ice cream pie. A perfect summery end to a vacation day 🙂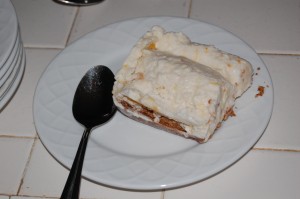 Check out the rest of this month's Recipe Reduxers:
Emma Stirling – The Scoop on Nutrition
Greek Yogurt Pavlova Popsicles
Cherie Schetselaar – Grain Crazy
Blackberry Lemon Almond Torte
Emma Cutfield – The Hearty Heart
Coconut Ice, Blueberry and Cocoa, Joint Healing Dessert
Carlene Helble – Carlene's Figments
Peanut Butter Banana 'Ice Cream' Sandwich
Janel Funk – Eat Well with Janel
Peanut Butter and Jelly Ice Cream
Kat Lynch – Eating The Week
Coconut Chia-Seed Fruit Pops
Dr Barb – Nutrition Budgeteer
Simply Fruit Mango-Pineapple Sorbet
Rebecca Scritchfield – MeFirst
5-minute Frozen Peach Pie
gretchen – kumquat
chocolate "ice cream" bars
Emily Greenfield – The Nutriscientist
Honey and strawberry semifreddo
Liz Marr – Liz On Food
Peach Lavender Ice Cream
Elizabeth Jarrard – Don't (White) Sugar-Coat It
Adult Popsicles: Frozen Boozy Treats
Regan – The Professional Palate
Frozen Samoa Pie
Liz Weiss & Janice Newell Bissex – Meal Makeover Moms' Kitchen
Healthy Blueberry and Mango Snow Cones
Jessica Fishman Levinson – Nutritioulicious
Watermelon Sorbet
Alexandra Caspero – Delicious Knowledge
Mango & Coconut Popsicles
Karman Meyer – Nutrition Adventures
Coconut Ice Cream with Strawberry Puree
Yuri – Chef Pandita
Acerola Chia Lime Popsicles
Kristen Bourque – Swanky Dietitian
Peanut Butter Coffee Popsicles
EA Stewart – The Spicy RD
Luscious Lemonade Pie
Danielle Omar – Food Confidence RD
Banana Soft Serve
Katie Caputo – East Meats West
Auntie Rosie's Ice Cream Pie
Alysa Bajenaru – Inspired RD
Coffee Granita
Kara Lydon – Peace, Love, and Food
Peanut Butter Banana "Ice Cream" With Dark Chocolate
Serena Ball – Teaspoon of Spice
Splendid Key Lime Frozen Yogurt
Lisa – Healthful Sense
Peanut Butter Vanilla Soft Serve
Jackie Mills – Delicious Diabetes Cooking
Summer Fruit Popsicles
Audra Losey – Nutrition Know How
Mocha Pops
Kristina LaRue – Love and Zest
Frozen Berry Yogurt
Stephanie Howard – Give them Something Better
Frozen Peanut Butter Pie