When Karl and I moved out to this house on 33 acres nearly a year ago, we knew one of the first things we wanted to do was buy chickens. Not just for the eggs and for meat, but for the fruits and vegetables. Yes, that's right – fruits and veggies. Karl and I are both very much influenced by Joel Salatin's model of farming. We want to avoid monoculture – growing a single crop or focusing on a single animal year after year on the same land, in the absence of rotation through other crops. We love his ideas on polyculture, the traditional rotation of crops and livestock. It's a symbiotic relationship of everything on a farm. It's better for both the land and people. Polyculture, when done right, automatically replenishes what is taken out, which makes it sustainable with minimal effort. You have healthier animals, healthier soil, and easier to grow fruits and vegetables with little need for fertilizer and pesticides.
Karl built Salatin-style pens for the broilers (meat chickens). The pens protected the chicken from hawks, foxes, and other predators, while still allowing for sunshine, grass, and fresh air. They were moved to a fresh patch of grass daily so they could eat bugs and fertilize the ground. The patches of grass where they were moved over ten weeks are now noticeably super green and healthy! While Salatin is known for his meat products, he calls himself a grass farmer above all else. Everything he does, he does with the health of the grass in mind.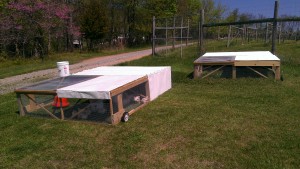 The chickens grow super fast! We waited until they were about 4 lbs each, about 8-10 weeks. You're allowed to process up to 1000 chicken on your property a year, and usually people rent the equipment. But Karl spent weeks prepping and he built an entire chicken processing set-up from scratch. Even an electric chicken plucker! Moving out here, I've seen an entirely new side of my husband, that's for sure!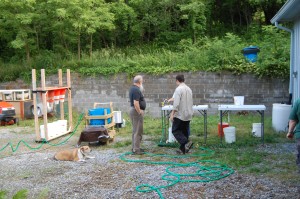 Karl's family raised chickens for meat and eggs when he grew up, so his parents came down to help supervise on processing day. We also had friends and family who are interested in food and agriculture come for the day/weekend to help out. Everyone watched videos and read the manual to get a general idea. But no manual is as good as Karl's mom showing us exactly how to do it! We processed and packed 48 chickens into our deep freezer.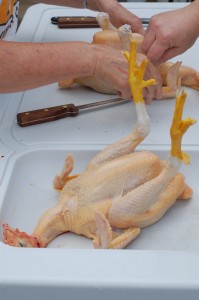 I won't go into the nitty gritty of how to process and butcher a chicken. I just wanted to write about WHY we did it and I hope this gave you a better idea. Someone at Karl's school last week asked him why he should buy pasture-raised poultry over supermarket chicken. I gave Karl some talking points – fewer inflammatory fats, no hormones or antibiotics, soil health, happy chickens, blah, blah, blah. But ultimately, he needed a one-line, easy to understand answer. An elevator speech. What did Karl and I come up with?
"It's healthier."
Haha. Not very good, I know! We're working on it 🙂
admin
http://www.wholehealthrd.com/wp-content/uploads/2017/02/WholeHealthRD_LogoWEBRGB_tm.png
admin
2013-06-13 18:29:48
2017-03-01 12:52:48
Why we killed 48 chickens last weekend